This is the world on the web of Kathy Kulig, award-winning author of contemporary and paranormal erotic romance.
Dare to explore beyond your darkest desires and fantasies. Here sensuality, on many levels and preferences, heats up the page, and courageous heroes and heroines find danger, erotic intrigue, love and always a happy ending. Look around and see if you can find something to satisfy the voracious reader in you.
Be sure to check out the
Books
section for the latest releases, reviews and purchase links.
Please stop by my BLOG to chat, see what's hot in the world of erotic romance and the latest contest.
Join my newsletter if you're interested in receiving news of my latest releases, appearances, contests and more. You won't be inundated with emails (I'm way too busy) and I will never share your information with anyone.
News will be updated with announcements, appearances and speaking events.
I really appreciate you stopping by and checking out my website. Thanks so much. I love to hear from readers. And please connect with my social networks. Twitter | FaceBook | Facebook Fan Page | GoodReads | LinkedIn| My Blog | Pinterest | Google+
Download a detailed press kit click HERE.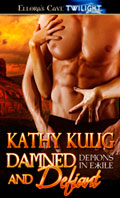 Damned and Defiant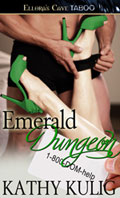 Emerald Dungeon